T
he simplest things can bring us JOY if we will only
allow
it. That's right
allow
. Nobody but YOU can determine how much JOY you derive from an encounter, an experience, or a simple gift.
Fragrant melted wax (vanilla hazelnut mocha to be exact), and a reminder of JOY from a friend are little touches around our home that
bring
me JOY. They are gifts that remind me how much I (and my family) are loved and cared for.
Sometimes I pray and ?TRUST? God for something (like passing scores, or plans for the future), and then am surprised when he answers with a "yes." Am I the only one who does that? Mmmhmm. There's a reason "TRUST" is my word for 2012! It's something I need to work on.
M
any mornings I watch as the sky grows light, and a pattern of clouds forms, and I wonder
at God's amazing creation, and at the grace he bestows on me -- allowing me to be a part of it all. Experiencing JOY. Learning TRUST.
Allow yourself
to experience JOY today.
Let yourself
TRUST God -- who has your best interests at heart.
See God
in the miracles that surround us every day.
"I will say of the LORD, He is my refuge and my fortress:
my God; in him will I trust."
~~~~~~~~~~~~~~~~~~~~~~~~~~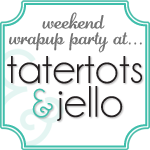 Head over to the Weekend Wrapup Party

at Tatertots & Jello,
and enter to win a Project Life binder,
the coordinating core kit,
and any 5 packages of the Photo Pocket Pages that are currently available