Were you wondering if I was still "on the wagon?" Yup. Still tidying up and organizing around here. My counter tops didn't take me too long last week, so I was already purging drawers too. I got down to the basic stuff, regrouped some things, and got rid of things that we haven't used in a long time. It's amazing how things accumulate, isn't it?
Just because we're moving on to the drawers and cabinets this week, don't forget about your sink. (One finger pointing at you, THREE pointing back at ME!!) Things also accumulate in the sink quickly, don't they?
Drawers: I have four stacked drawers of various depths. Here they are, bottom to top -- all purged:
Drawer #1 - larger tools, and various hotpads.
Drawer #2 - family Rx, seasonal meds, vitamins, and the like.
Drawer #3 - measuring cups, measuring spoons, travel cup lids, and a few misc. things.
Drawer #4 - everyday silverware, some knives, and straws.
I don't know about you, but my idea of a tidy kitchen drawer doesn't always mean that everything is always lined up perfectly. After all, I am in and out of these drawers a million times a day reaching for things, and putting things away. I'm happy just to have purged some things.
My one other drawer is just to the right of my stove. Here are the things that I use the MOST. Kitchen scissors, rubber spatulas, small metal spatulas, vegetable peeler, lots of little paring knives, my firestarter, and some silicone "trivets" that I use as potholders.
<<Just a side note: After my mom asked about these "trivets" at Thanksgiving, I went looking for some for her. When I bought mine, they were EVERYwhere. Not so much now. When I finally found some for her (read: when my sweet hubby hunted them down), they were called "trivets" and said they were NOT to be used to remove things from the oven. Well, hello? That's exactly what I use mine for, and they are the bomb. I love them because if they get messy, I throw them in the dishwasher, oh yes I do. AND, they look SO much nicer than washed-dried-washed-dried-washed-dried cloth potholders. Just sayin'. Just pay attention to whatever the "label" says about temperature levels, okay? End of sermon.>>
What's your idea of a "tidy" and organized drawer?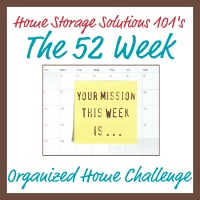 WEEK TWO MISSION: Kitchen drawers and cabinets
~~~~~~~~~~~~~~~~~~~~~~~~~~~~~~~~
Also - have you heard? Layla at
The Lettered Cottage
is having a "This Little Word Of Mine (I'm gonna let it shine!)"
link party on Monday, January 16th
. Write a post about the word you have chosen (or as Layla says, "the word that chose you,") and stop by to link up. If you don't have a blog, you can stop by and leave a comment about your word. Hope to see you there!