I've never made couscous before -- how about you? While watching cooking shows on PBS last weekend, I saw someone making it, and thought "I have to try that!" So, I purchased some, and have just been waiting for a day of inspiration.
Oh, okay, it was a last minute scramble. Who am I kidding?
Anyways, um, it's my new favorite.
I checked out a bunch of different recipes, and then combined a few of them to make something I thought our family would enjoy. Here's what I did:
Easy Veggie Couscous
1-1/4 cup water
1-1/4 tsp. instant chicken bouillion granules
1 cup couscous
1/2 cup frozen peas, thawed
3 green onions, chopped
1 plum tomato, diced
small handfull chopped cilantro
2-3 T. lemon juice
salt & pepper to taste
Bring chicken broth to a boil. Add couscous. Stir & remove from heat. Let sit for 5 minutes until broth absorbs couscous, and is fluffy. Add all other ingredients and mix well. Serve to your adoring fans.
I basically just added what I had in the refrigerator, but you could certainly add any spices, herbs, or veggies that your family enjoys -- or use what you have on hand, like I did! The water-to-couscous ratio is the important part. The rest you can vary.
Super quick. Super easy. Try it, you'll like it!
Come join The Salad Social at

TidyMom
sponsored by
The Olive Council's

Add Some Life
May 14th-21st, 2012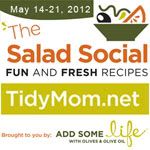 And in other news:
Remember the Christmas stars that my daughter and I made? Well, after putting away most of our Christmas decorations, we still couldn't part with them. They aren't exactly the kind of thing that stores well. We knew we'd have to toss them eventually... but not yet.
TaaDaa! And here they will stay -- at least until Valentines Day, we think. The manger scene might just stay out that long this year too...