and helping me get things done at the same time!
Does anybody out there in blog-land know what I mean?
First I spotted this on Pinterest: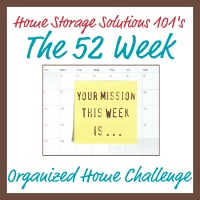 My original pin HERE.
and I got on the band-wagon to a more organized home in 52 weeks. There are so many great ideas here! This process has made me look at spaces that get overlooked in our home, and how I can do things differently... BETTER!
And then, I'd spot something like this:
Do you see my problem? Those of you who saw the movie "Up!" will know what I mean when I say:
"SQUIRREL!"
Yes - it's a silverware tray. But no - it's
not
being used in the kitchen where I'm still supposed to be cleaning and organizing in week four of 2012. I'm so easily distracted. I'm off to the dollar store to get a cheap silverware tray to organize our BATHROOM. I'm pretty sure this "pin" will be a success!
So... I'm still cleaning and organizing. I'm just in the WRONG ROOM. Is anybody there
with
me?
Oh, Pinterest.
Here are the rules for Project Pinterest:
1. Decide which pin on Pinterest you'd like to recreate.
2. Create it!
3. Flop or success, create a blog post about your re-do and include the original pin's url.
4. Add the Project Pinterest button to your post so others can join in too!
5. Link up and check out other bloggers' posts!
UPDATE: Amanda has done a great tutorial post about how to add a "pin it" button to your blog -- on every post. Check it out
HERE.