I drove by JoAnn Fabrics today, and couldn't resist stopping in to see if I could find any interesting clearance items to inspire me. I'm happy to say that I found a few things.
Remember when I did
THIS
post for spring? IN FEBRUARY?!? I was only-a-little-bit-in-a-hurry to usher winter out the door!!!
Now, here we are mid-September, and well, we wouldn't want to plan AHEAD for fall or anything, would we?
Whatever. (grins sheepishly)
I've already discussed me dragging my feet into fall
HERE.
Okay, enough. Aren't you dying to see what I found today? Well, first let's just get it out in the open. This girl has a weakness for pottery. (There are those of you who are nodding your heads because you know about my BOWL fettish. I've not blogged about
that
yet. Some day.) But, anyways -- pottery in general is a good thing -- and it doesn't have to be anything expensive for me to appreciate it. So... I found this little goody:
Are you seeing that red clearance sticker? Cha-ching. And actually, the plate/bowl is not "little" as I said - it's 9.5" across. I'm loving the worn areas that make it look like it has a history. I also found some Pumpkin Spice Potpourri for 50% off. It's pretty cool with seed pods & such. I think it'll look great in the bowl, don't you?
And last but not least -- something that I'm going to tuck away for Christmas decor (and also $2.97 on clearance). This sweet red crock. It's a deeper color than the picture shows, and about 5.25" tall x 6"across. I'm thinking it might look good loaded up with candy canes (which we eat like they're going out of style) during the Christmas season. But more on that much later.
and in with the new!
Like this:
or maybe this:
Okay, c'mon fall. I'm ready.
I'm linking up with Melissa
for the Fall Nesting Party.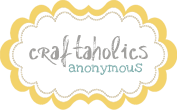 I'm also linking up with Linda.
over at Craftaholics Anonymous.