The Top Ten Reasons Why I Love "Dancing with the Stars."
(in no particular order)
Bruno is so passionate and expressive that he can't help but stand up when it's his turn to pronounce his judgement.
The audience "boos" Len. Sometimes that man just needs to be BOOed!
Carrie Ann isn't afraid to "call out" the men when they've made a bad call.
My daughter loves to watch the show with me.
Hines Ward - Love that smile! (My daughter is cheering for him because she's a Steelers fan.)
You never know what witticism Tom Berjeron might come up with next.
There is such great camaraderie amongst DWTS alumni. So many of them show up to cheer the "newbies" on!
Len is so embarrassed by Bruno, and often turns away when he speaks. I think he's afraid of Bruno's wild hip-action, too!
Maks & Kirstie - Did DWTS pair them well, or what?
It is proof that everybody can't be good at everything!

Got a Top Ten list your dying to share?
Click here & link up!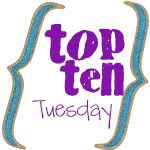 And here's a bit of trivia -
for those of you SEARCHING for the answer...
The name of the trophy-cup for the winners is:
THE MIRROR BALL TROPHY.